I have been wanting to make a zine FOREVER. In light of the last year, two years, how long has this been going on? The election, the personal lives of so many people I know, how many friends died of cancer. Just a lot. I suppose this is all part of getting older. Is it? Anyway things in the world are tumultuous, and I want to counter it in any tiny way I can. So this little project of mine: it is small and fits in your pocket. Not a fancy edition to collect and save in mylar, but something that you can carry in your pocket to pull out and look at when you need cheering up.
I think I first started drawing animals wearing crowns sometime in the fall during the never-ending U.S. elections. I followed it on Twitter, because I found I could no longer listen to NPR or anywhere else. I had to carefully filter it through my very curated Twitter feed. And thank goodness for internet friends (some, many I've met in real life) for bits of relief here and there. It was somewhere during the primaries one of my friends started tweeting pictures of otters. And who doesn't need otter relief mixed into the tumult and chaos of the U.S. election cycle?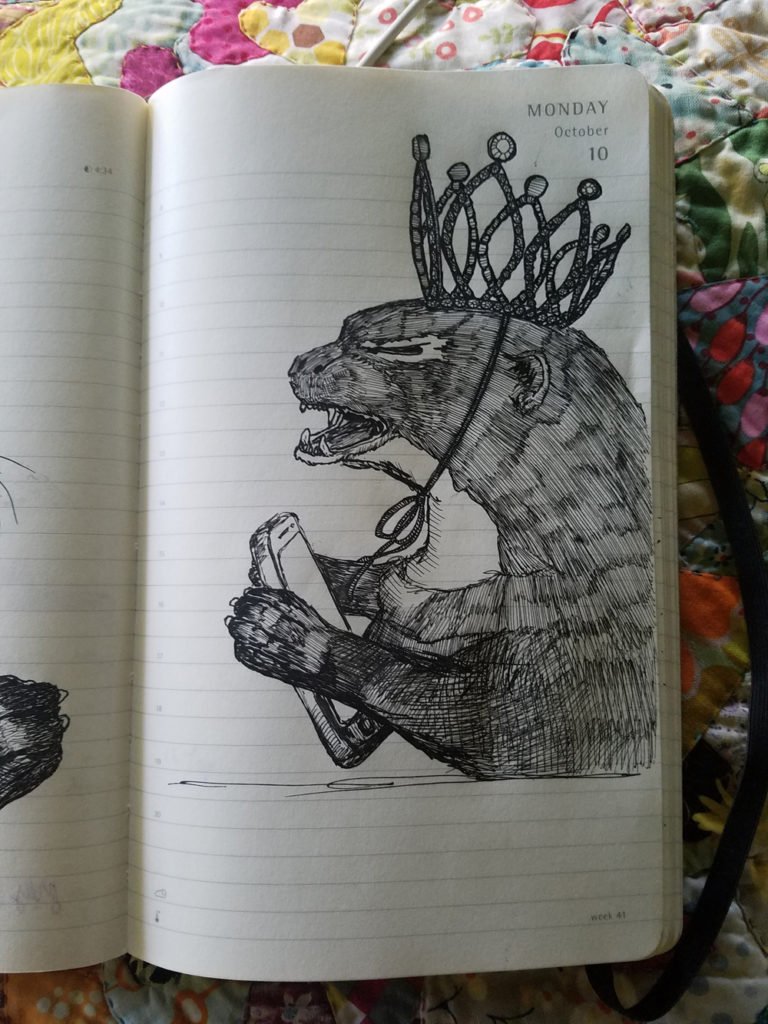 Because isn't this all of us?
So in the interest of analog and paper, I made you a tiny one page zine. It measures 4.25 in tall and 2.75 in wide, and is folded into a tiny booklet containing drawings of 7 animals in glittering crowns. Keep this tiny booklet in your pocket to look at or show to your friends when needed. Each book is mailed individually in a hand addressed envelope to anywhere in the world. If you want me to mail one to a friend, I will do that too. Purchase yours here