On a whim, I decided that I needed a cape to go with my bandit mask. Given the terrifying way the country is going, a girl must be prepared. I bought this kermit green wool a month or so ago thinking I would be making a skirt or a jumper. Let's just say I am really good at fitting pattern layouts. I almost always have .25 to .5 yards left using commercial sewing patterns; it's one of my superpowers. It is funny to me doing a couture project with minky fur, but it is cozy and super soft. I wanted something that I could wear in slightly warmer temperatures than my cashmere greatcoat. I made a few slight modifications to the pattern design; namely I brought the fur lining out to the front edges, so I omitted the front facing, did a button loop instead of buttonholes, and I used open slits instead of arm holes. This was inspired from a vintage cape I saw recently. It seemed far more practical. If it feels too open, I can always go back and add more fur hooks to the slits to keep them closed. If the weather ever gets cold. It's been in the solid upper 60's. In Portland. In November. In this year of the apocalypse, I can't be surprised about anything anymore.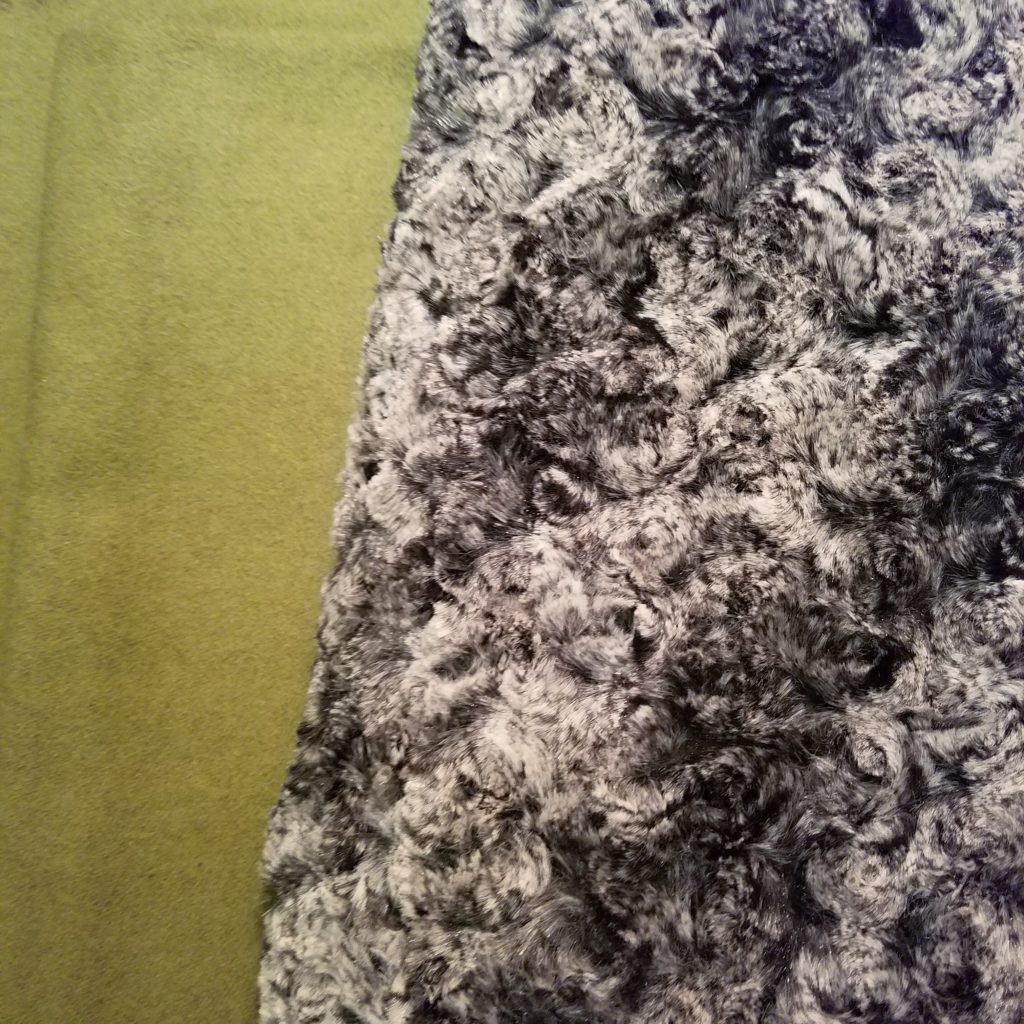 Kermit green wool coating, medium weight and minky fur lining.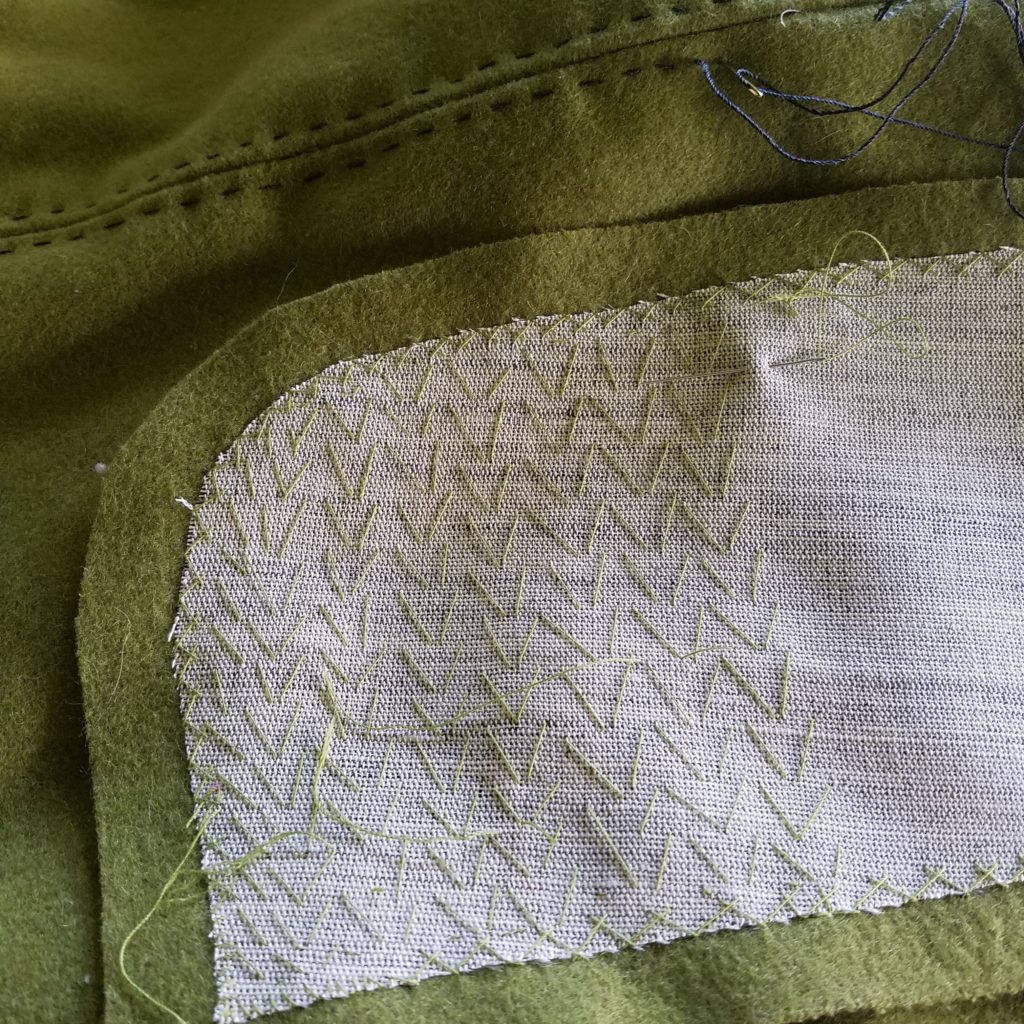 Padstitching the collar with horsehair interfacing and topstitching the seams with silk thread. Silk thread is a dream for handsewing. I never use it for machine sewing.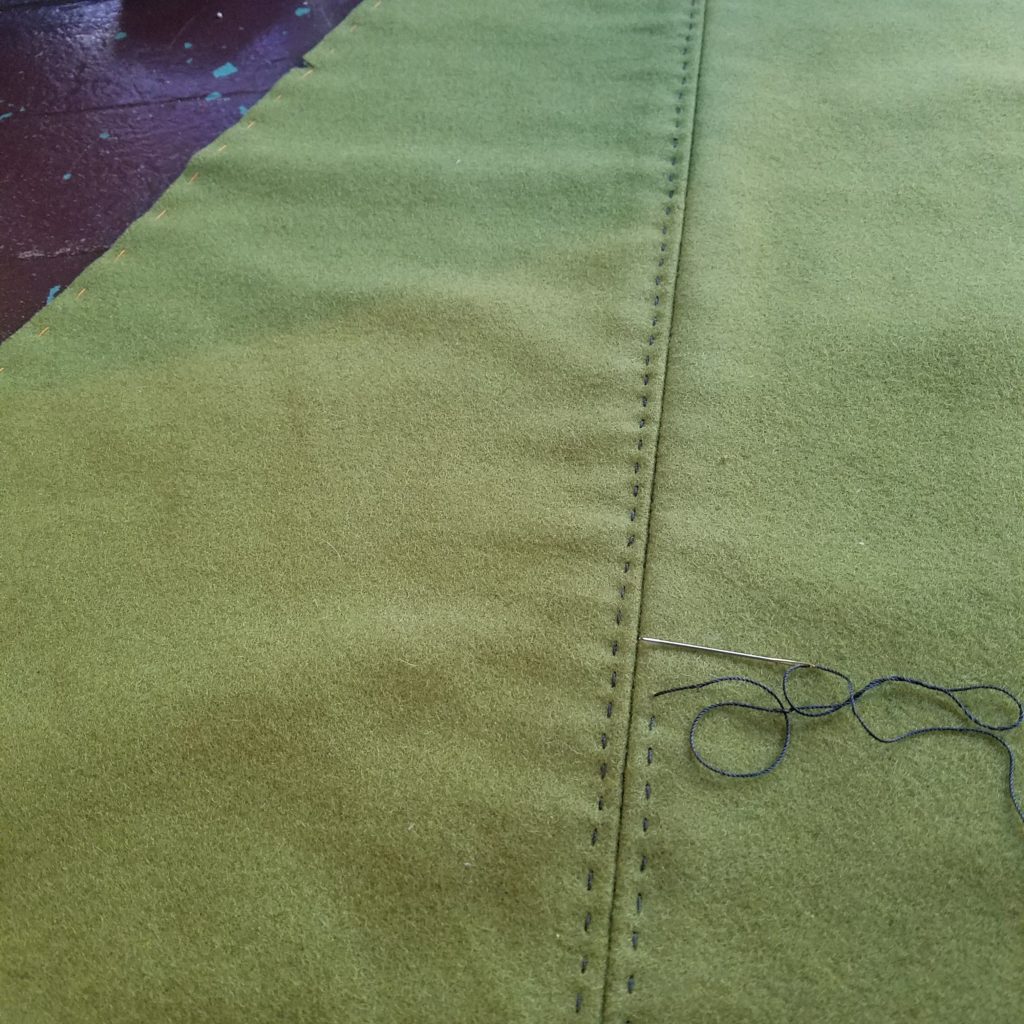 Topstitching all the seams with silk buttonhole thread.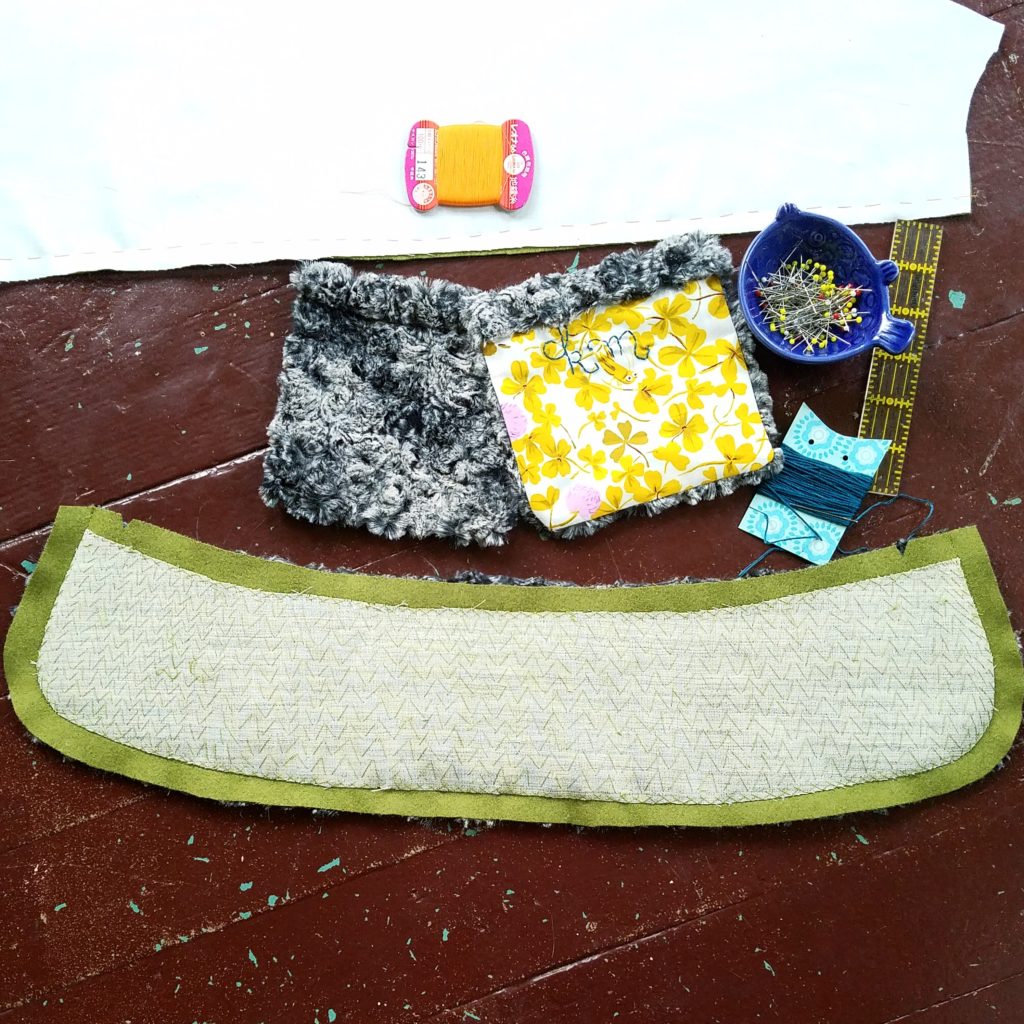 The padstitched collar before turning, monogrammed pocket with lucky grasshoppers lining, and hand-basted cotton muslin underlining.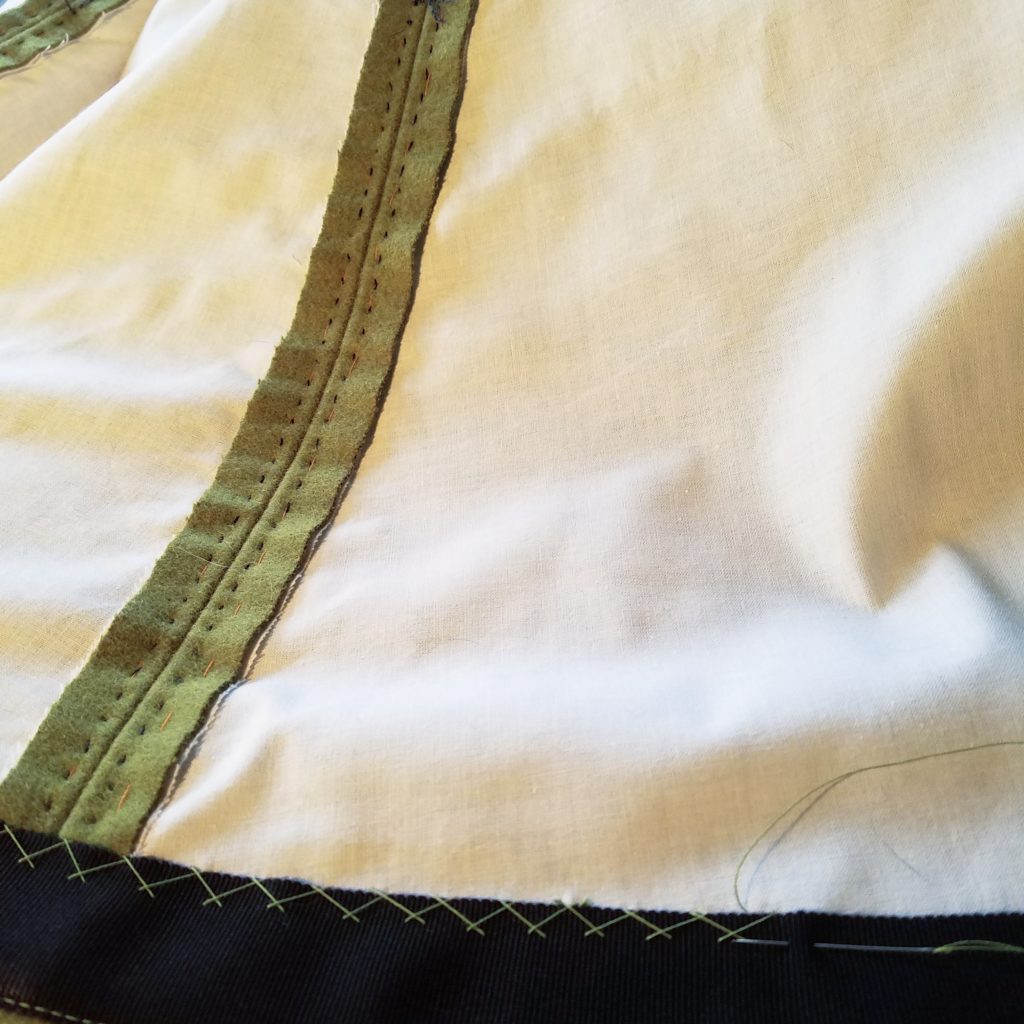 Petersham hem for substance and weight chevron stitched to allow the fabric to move.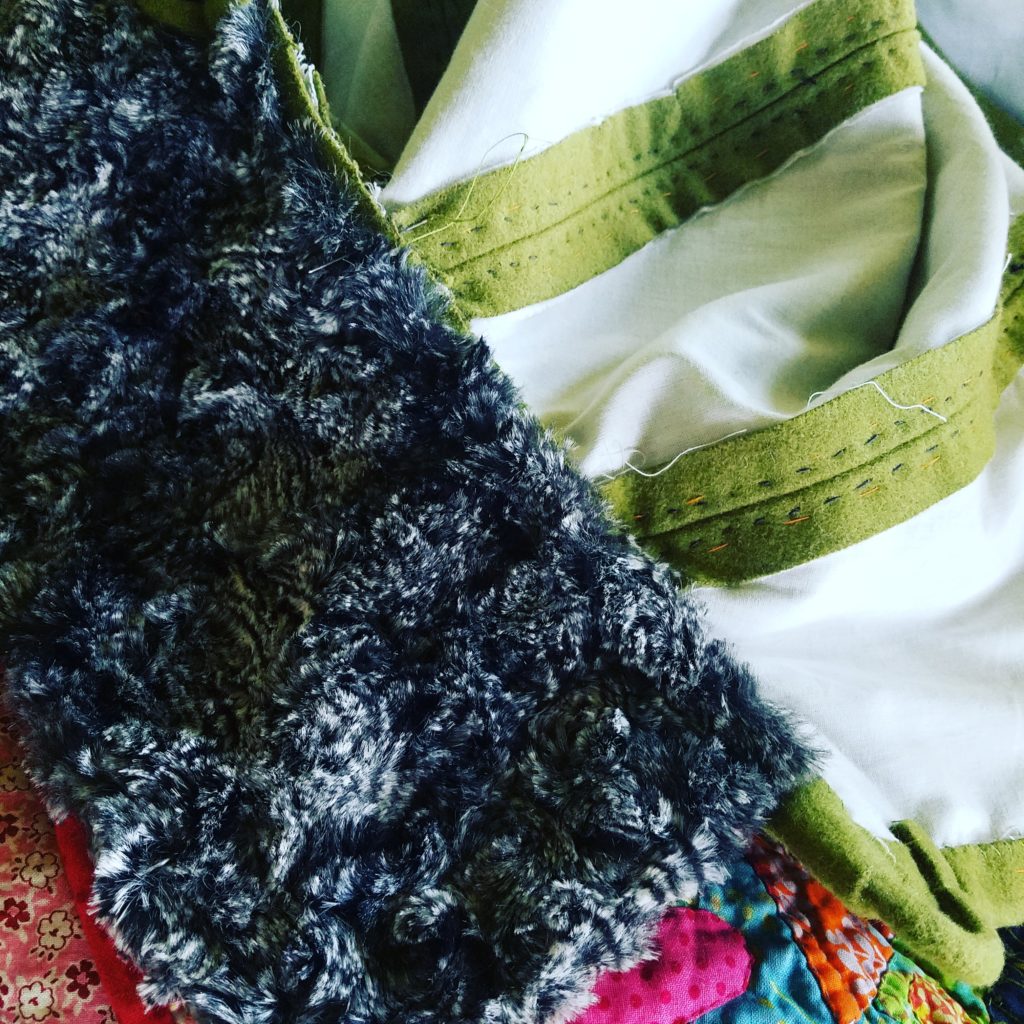 Attaching the collar; hand sewing it down so it will stand nicely. Button loop detail.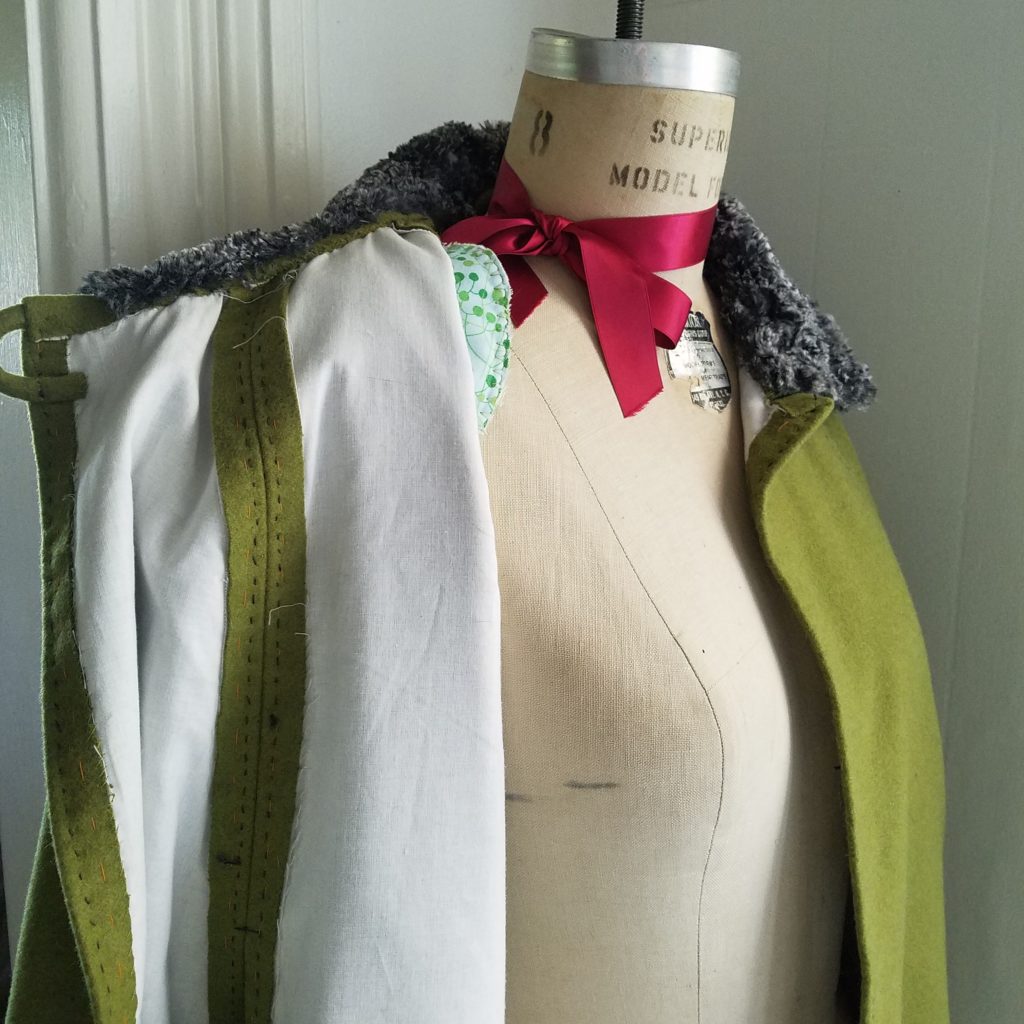 After I tried it on the shoulders needed a bit more substance, so shoulder pads.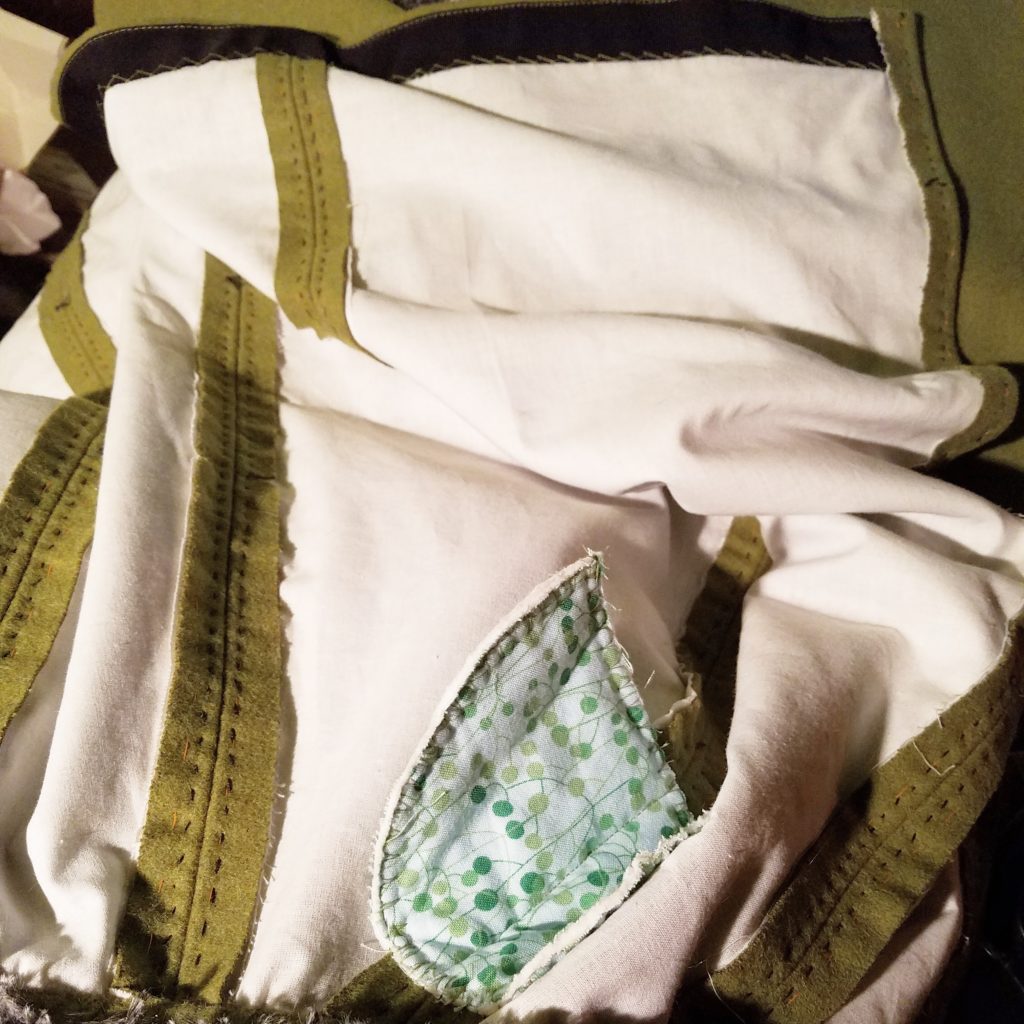 One last look at the inside before closing it in with the lining.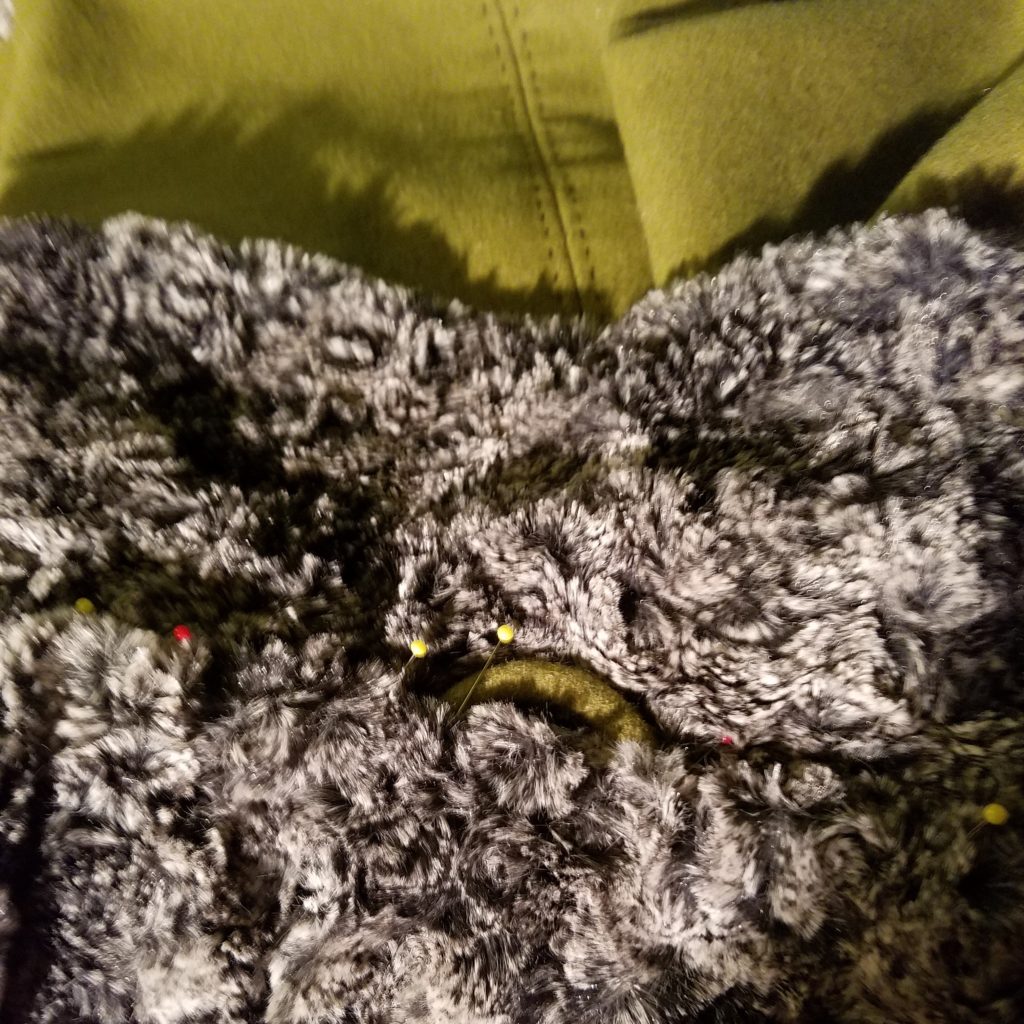 Lining pinned in with the hanging loop peeking out.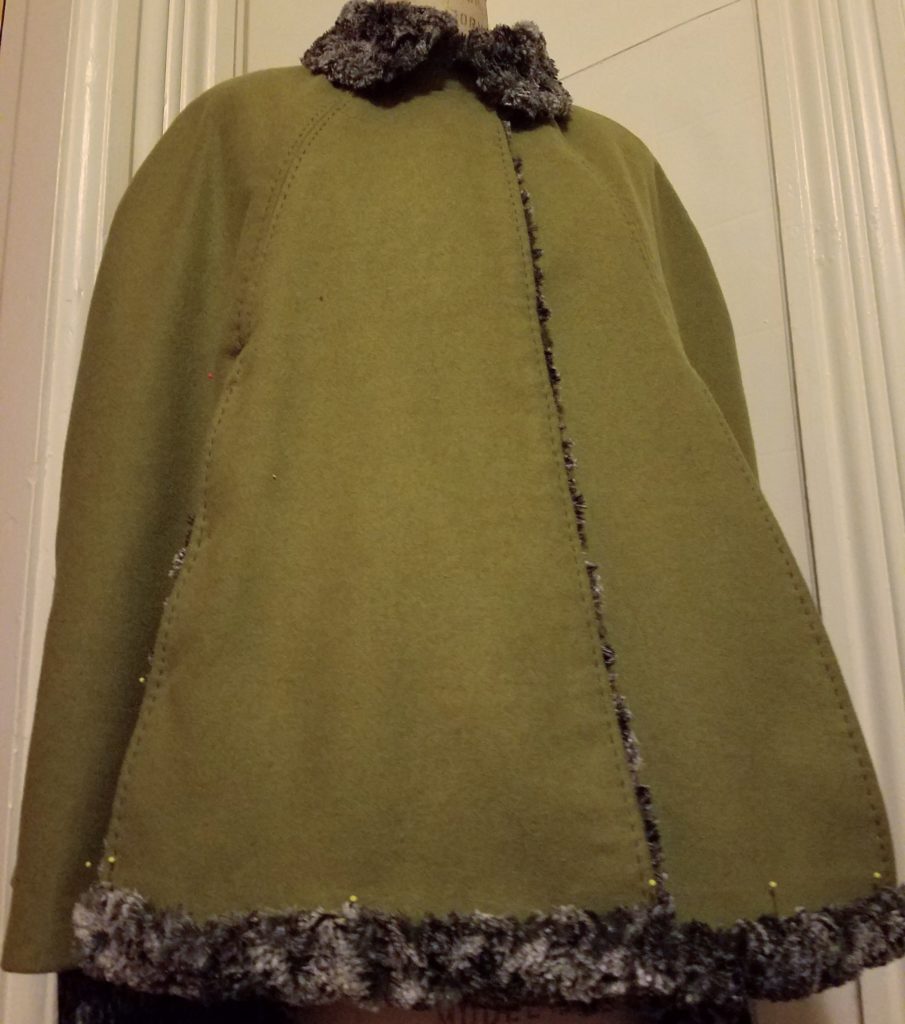 Deciding on the hemline: fur wrap or just plain with a bit peeping out like the fronts and the slits. I went with the wrapped edge.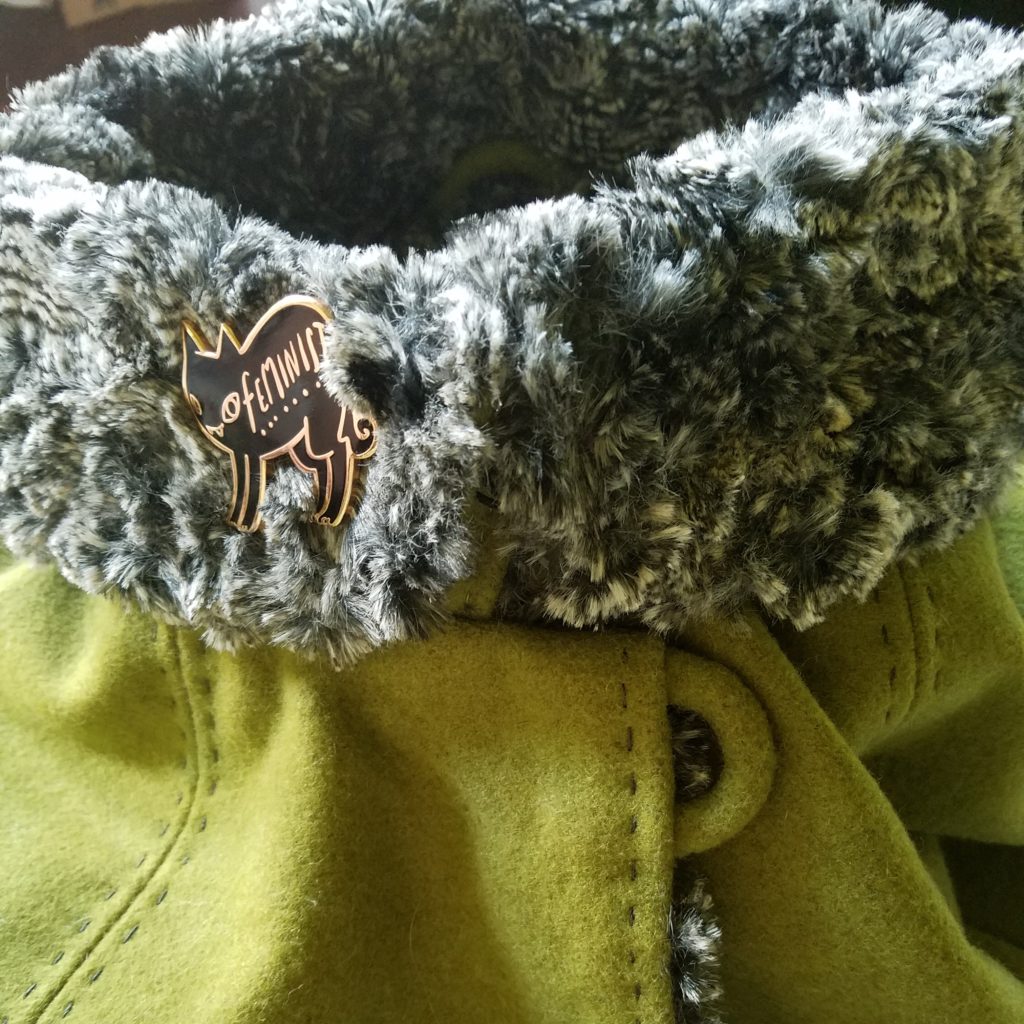 I put a fur hook in the bottom of the collar, so it could close around the neck for added warmth if needed.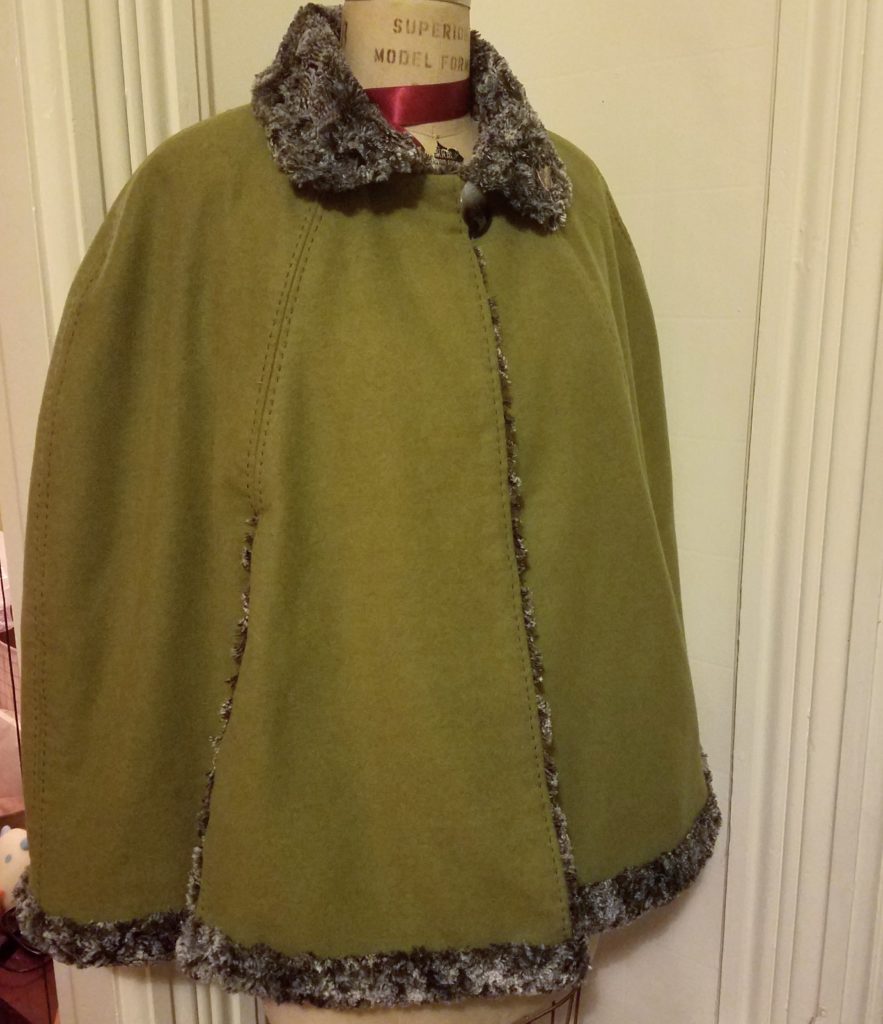 Finished, almost. After wearing for a couple of days, I added another fur hook at the bust line to keep it closed on colder/windier days.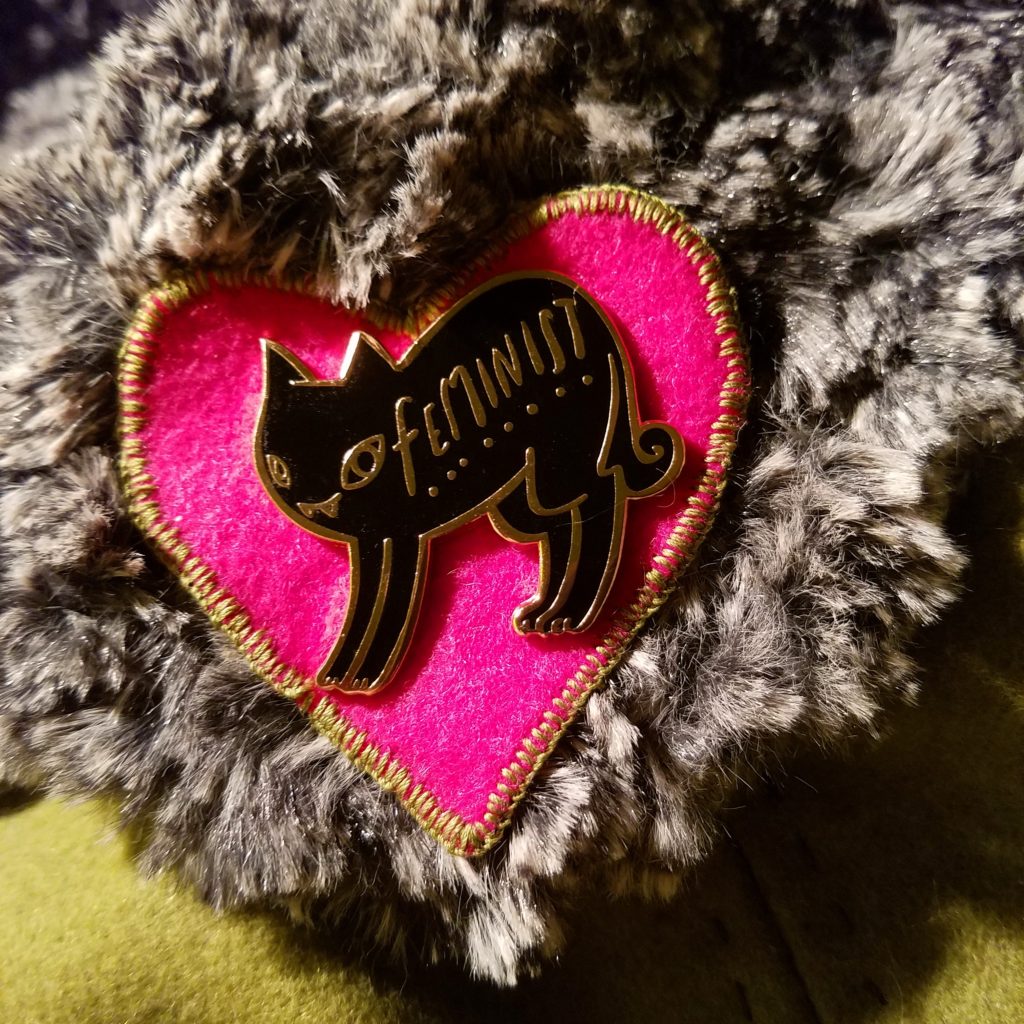 My pin was blending in to the collar. Since this is not a time for subtlety, I cut out a felt heart and blanket stitched its edge with silk thread to match.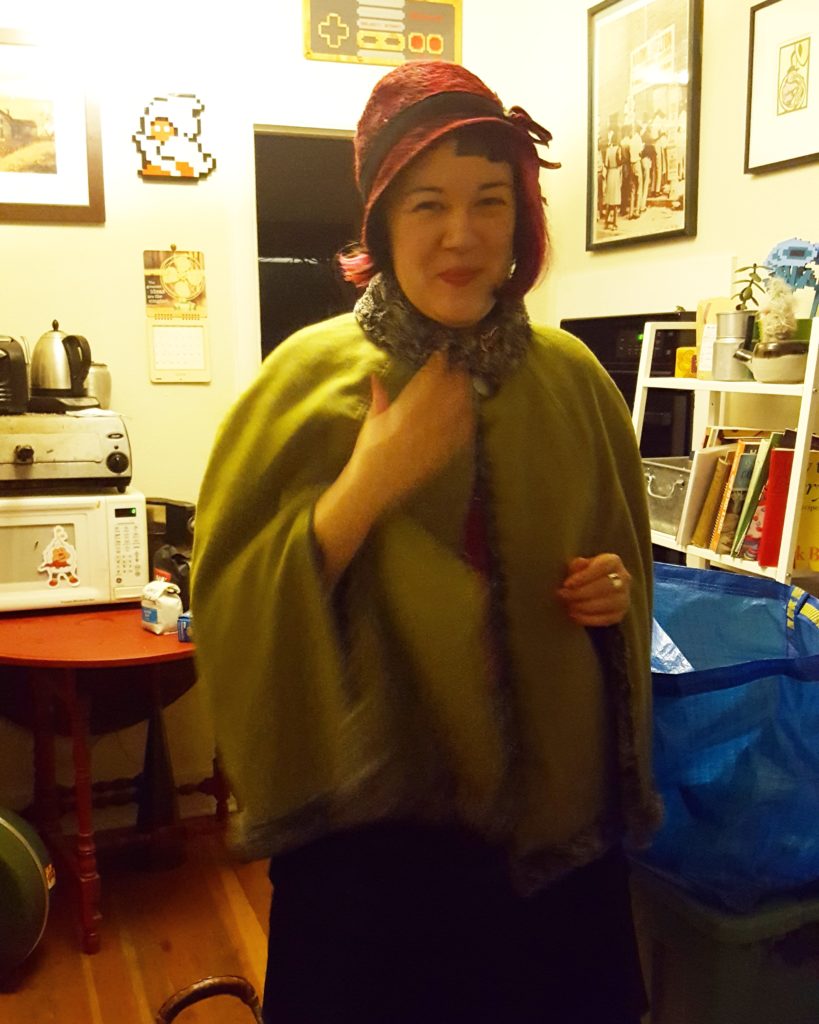 A blurry photo taken by Kateri Morton the day I finished. A rare moment of laughter on a very dark day.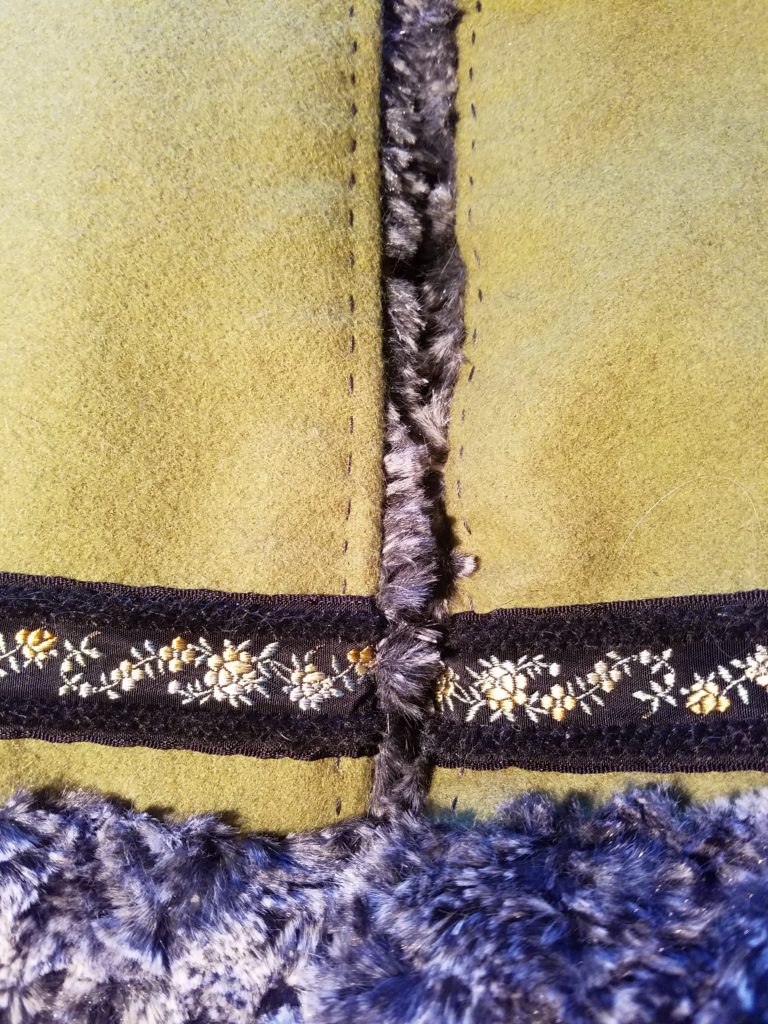 Added a few days later: I found this awesome vintage french trim! It matches perfectly. I mean, of course I couldn't not embellish; silly me, what was I thinking!?
Details:
dates: 5 November – 9 November 2016
pattern: Vogue #V8959 size M, version A (with modifications noted above)
yardage: 1.25 yards of kermit green medium weight wool (pattern calls for 1.875 yards), 1.5 yards of minky fur, .25yd horsehair interfacing, 2(ish) yards of cotton muslin
notions: silk basting thread from japan for hand basting the underlining to the poly thread for sewing the outer pieces, silk thread for all the hand-finishing, silk buttonhole thread for the decorative topstitching of the seams, 3 yards petersham, 1 button, 2 fur hooks
vintage trim: 2.5 yards, and it probably cost almost as much as the rest of the materials, but so worth it!
pin: black cat feminist pin by bunnydee wool felt for emphasis, silk thread edging